2022 Department of Pennsylvania Marine of the Year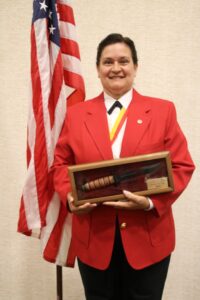 Diana K. Henry
The Department Marine of the Year Award is the highest honor that can be bestowed upon a regular member of the Marine Corps League by the Department of Pennsylvania.  Candidates for this award are recommended by the people who know them best - the Marines of their own Detachment.  These recommendations are screened by a panel of judges made up entirely of past Department Marine of the Year recipients.  The new Marine of the Year is introduced and honored at the Department Convention Banquet.
Nominations are to be submitted in accordance with the GUIDELINES of Enclosure (3) of the Marine Corps League of Pennsylvania Administrative Procedures.
Pennsylvania League members are also eligible to be nominated as Northeast Division Marine of the Year under the procedure outlined HERE.
Nominations for National Marine of the Year are received in accordance with Chapter THREE, Section 3105, paragraph (g) of the National Administrative Procedures.